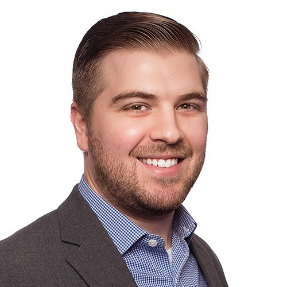 Welcome new member Joe Peck
Jason Hynson introduced Joe on July 21.  Lisa Odom is his co-sponsor.

Joe is a commercial loan officer for Great Southern Bank, where he's worked since 2014.  He held positions in both operations and commercial lending before assuming his current job.

Joe is a Springfield native who graduated from Kickapoo High School in 2010.  He earned a bachelor's degree from the University of Missouri in 2014 and is proud to be a third-generation Tiger.  He earned a Masters of Business Administration from William Woods University in 2017.

Joe has served as a board member for Victory Mission and on the Young Professional Advisory Board of Community Partnership of the Ozarks.

Joe has been married to Elise, a native of Jefferson City, for 7 years.  They have a 3-year-old daughter, Nora, and a second baby due in December.  They live in east Springfield.

In his free time, Joe enjoys riding a bicycle and playing golf, as well as spending time with Elise, Nora, and Nora's five cousins.