2023 Volunteer of the Year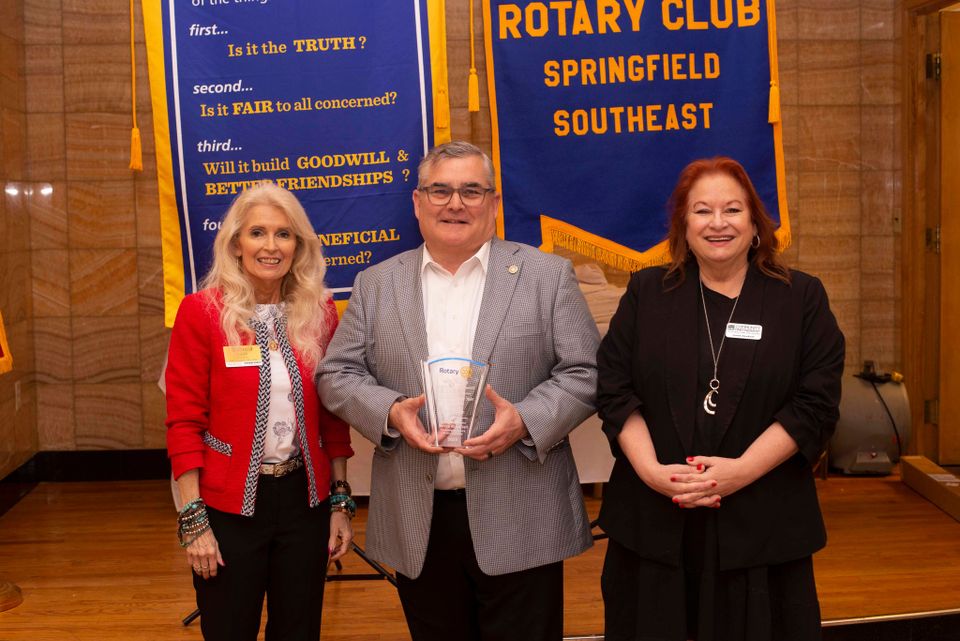 Springfield Southeast Rotary Club honored Brian McDonough as its 2022-'23 Volunteer of the Year at its meeting on April 20.  This is the club's highest honor.

McDonough is vice president and general manager of KY3, KSPR and The Ozarks CW since 2011.  KY3 is one of the top-rated NBC affiliates and The Ozarks CW is one of the top-rated CW affiliates.  Their digital assets, including websites, are among the highest performing in the country with more than 400 million page views this year.
                                                Barbara Lucks, Brian McDonough, Keli McDonough (Photo by Dan Emrie)
McDonough is a stellar community leader and has been engaged in volunteerism for many years in Springfield. He is the driving force behind KY3's VolunteerOzarks.com and the VolunteerOzarks app, which help recruit volunteers and support non-profit organizations that need volunteers.  Under his leadership, KY3 also impacts the community by airing free public service announcements. In 2022, KY3 aired 39,719 PSAs for a total value of more than $6.1 million advertising dollars.  KY3 also employs a community services director because McDonough sees that as an essential role, and KY3 sponsors dozens of community events each year.

Dr. Steven Covey teaches us about our own personal sphere of influence and, as you can see, McDonough's sphere is huge and he takes advantage of that to do good things.   His commitment to service, however, goes far beyond his efforts through KY3.  A new initiative that he spearheads this year is a Civics and Civility Project in conjunction with the Springfield Daily Citizen e-newspaper. This project is in response to the growing polarization over key issues in our community and it aims to rebuild knowledge of civics and the importance of civility.

McDonough volunteers his time and leadership expertise to several boards and organizations. He has been on the Community Partnership of the Ozarks' Board of Directors for several years and is currently its vice president. He was nominated for this award by Janet Dankert, president and CEO of CPO.  He is also on the United Way of the Ozarks' Board, and has served as its annual fundraising campaign chair.  In both roles, his leadership has helped promote awareness about many critical issues, including homelessness, mental health, and child care.

McDonough is or has been involved with many other non-profit organizations over the years, including the Ozark Empire Fair Foundation, Good Community Committee, Children's Miracle Network, Southern Missouri Red Cross, the Springfield Area Chamber of Commerce, the Missouri Broadcasters Association, serving as Board Chair, and Honor Flight of the Ozarks.  It is easy to see, whatever the organization in which he serves, that organization benefits from his leadership and expertise.  He is not just a member – he is a leader.

McDonough is a member of Leadership Springfield Class 28 and has been recognized by the Springfield Business Journal as one of its Men of the Year.  He is certainly our Man of the Year.

McDonough's wife, Keli, and about 15 KY3 department heads surprised him by showing up at the meeting at which he was honored.

The Rotary Volunteer of the Year Award has been presented annually since 1999.  It recognizes service outside of Rotary – to our communities.  Nominations are submitted by our club members and community organizations, with the final selection being made by the Rotary Volunteer Committee.  This year's committee members include co-chairs Cindy Howell and Barbara Lucks, Dan Emrie, Carol DeHaven Janick, Tammy Mast, Lori Johnson Murawski, Doug Nickell, Candice Reed, and Anne Soots.
Previous recipients are:
2022 Judy Bilyeu
2021 Mark Walker
2020 No Award
2019 Mark McNay
2018 Charlie O'Reilly
2017 Angela Smith
2016 Irwin Cohen
2015 Doug Nickell
2014 Steve Rice
2013 Gordon Elliott
2012 Kirk Elmquist
2011 Dennis Whaley
2010 Gerry Lee
2009 Rick Hughlett
2008 Gary Deaver
2007 Bob Hammerschmidt
2006 Doug Pitt
2005 Anne Brown
2004 Todd Parnell
2003 Joy Lamberson Klock
2002 Steve Scott
2001 Barbara Lucks
2000 Mac McCartney
1999 Bill Reser